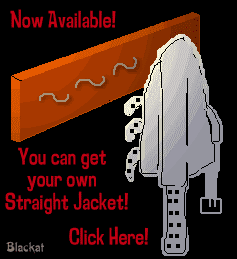 COME ON IN!! Hang your straight-jacket on a hook...it's okay, we've removed all sharp objects! Sit back and enjoy your insanity! Inspire it with my great collection of jokes, or explore other's Insanity by browsing the Strange and Weird. But WAIT!! Before you go...bookmark this page...we wouldn't want you to get lost!

...And don't worry..everything will be fine...all those voices would stop if you'd just take off the aluminum foil!

Oh, and after bookmarking this site, stop by my friends sites too!!